Advanced Analogic Technologies (AnalogicTechTM), an analog semiconductor company that provides power innovation solutions for the consumer, industrial and communications markets, is targeting emerging portable electronic devices such as fast-growing tablets and sophisticated computers. The liquid crystal display (LCD) backlight application required by the market introduced an efficient white LED driver, the AAT1451.
Ray Chan, Technical Marketing Manager at AnalogicTech, said: "In terms of power management, system designers' considerations vary depending on the size of the display and the intended use. The AAT1451 LED driver provides a very comprehensive feature for the market. This further extends battery life, which is critical for the fast-growing tablet market. Our company's LED drivers now support the full range of LCD display sizes from mobile phones to large-size TVs, all of which are There are a number of features and feature options that help improve the end user experience."
The new AnalogicTech AAT1451 LED driver comes with a number of innovative features that enable end-users to offer a full-featured product that meets consumer requirements.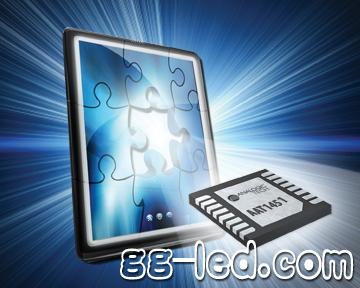 AAT1451 has the following features:

It can drive up to 4 strings of light-emitting diode (LED) strings with up to 93% efficiency and auto-phase shifting technology to achieve this efficiency at low LED brightness levels, further extending battery life.
Use a 32 kHz pulse width modulation (PWM) operating frequency to ensure quiet operation.
With high switching frequency (600kHz - 1MHz), original equipment manufacturers (OEMs) can choose small passive components to achieve a lighter and slimter end product.
The DC input voltage range is wide, so the device can be powered by a lighter adapter and a multi-cell Li-Ion battery.
Integrated security features provide an alarm to the system controller and take action to disable short-circuit and open-circuit LED strings to prevent thermal faults.

The AAT1451 uses proprietary PWM dimming technology to reduce peak current by 75%; its 256-level LED brightness supports Android operating system platform and content adaptive brightness control (CABC) to further extend battery life.

To ensure the accuracy of the backlight color temperature and brightness uniformity across the display, the AAT1451 uses four precision current sinks that are programmable up to 30mA per string, ±2% accuracy, and ±1.5% string-to-string matching. It can drive up to 48 white LEDs with a total output current of 120mA.

The AAT1451 is priced at $0.82 per unit in 1,000-unit quantities. For additional bulk order prices, please contact AnalogicTech or its distributors. AAT1451 is currently shipping.

Main features :

Input voltage range: 2.7 to 26V

Integrated 50V Boost Converter

PWM frequency: 32 kHz
Switching frequency is fully adjustable: 600kHz to 1MHz
Maximum I OUT : 120mA
Integrated fault protection:
Soft start
Thin TDFN34-16 package
Temperature range: -40 C to + 85 o C

SMT Cylinder And Sensor will be for sales
Smt Cylinder and sensor includes serveral brands,original and new, stable function, in stock
Juki Sensor
Juki Laser Sensor
Juki Smt Sensor
Laser Sensor
Juki Cylinder
Juki Square Cylinder
Juki Air Cylinder
Cylinder Square
Square Cylinder
Fuji Original Cylinder
SMT Cylinder And Sensor
Air Cylinder,Smt Cylinder,Smt Sensor,Original Cylinder
Shenzhen Srisung Technology Co.,Limited , https://www.sr-smt.com