In recent years, the international community has set off a new wave of scientific and technological revolutions and industrial changes. Developed countries have followed the trend and have thrown out national strategies and plans to stimulate real economic growth. They hope to regain their manufacturing in the manufacturing industry through technological progress and industrial policy adjustment. Competitive advantage. Among them, the concept of "Industry 4.0" initiated by Germany has gradually developed fever around the world. However, manufacturing related companies, semiconductor components or system integrators, although it is clear that Industry 4.0 will bring new and huge business opportunities, but it is generally not clear how to enter the market, and even how to introduce the Industry 4.0 concept in their own factories.
This article will start with the origin and definition of Industry 4.0, and explain the layout strategy of relevant industry, which will bring readers a clear blueprint for the development of Industry 4.0.
Industry 4.0 boosts manufacturing productivity
Industry 4.0, defined in Wikipedia, is "Industry 4.0 or the Fourth Industrial RevoluTIon, Productivity 4.0. It is a high-tech project proposed by the German government in 2011, by the German Federal Ministry of Education and Research. Jointly funded by the Federal Ministry of Economics and Technology, the investment is expected to reach 200 million euros to improve the computerization, digitization and wisdom of the manufacturing industry." The goal of Industry 4.0 is not to create new industrial technologies, but to integrate all industry-related technologies. , sales and product experience, is the establishment of Smart Factory with adaptability, resource efficiency and human factors engineering, and integrate customers and business partners in business processes and value processes.
In addition, the industry 4.0 technology base is the Cyber-Physical System (CPS), the Internet of Things (IoT) and the smart sensor network, that is, through sensors and actuators (actuator). ) Connect the real world to the virtual world.
Zheng Zhifeng, general manager of the Siemens Digital Manufacturing Division and Process Industry and Drive Technology Division, said that Industry 4.0 covers nine technologies, including Augmented Reality (AR)/Virtual Reality (VR), Simulation (SimulaTIon), and Giant. Big Data analysis, Autonomous Robot, Cloud CompuTIng, Industrial Internet, Cyber ​​Security, horizontal and vertical integration / 3D printing (3D PrinTIng ) and improve the system's intelligence.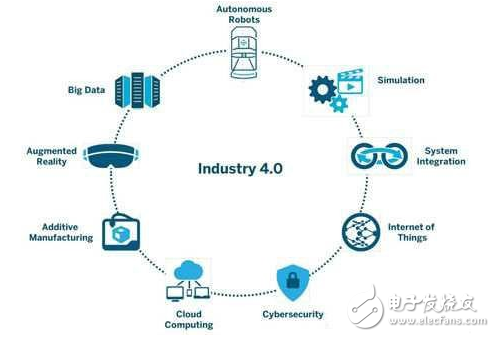 Nine key technologies of Industry 4.0
If these nine technologies can be implemented in the factory, they can truly meet the definition requirements of Industry 4.0. Industry 4.0 can bring manufacturing advantages such as increased production flexibility, shorter time-to-market and improved production efficiency. Therefore, in addition to Germany, Europe and the United States and China have launched the Industry 4.0 program, and the Taiwan government has also launched the "Productivity 4.0" program to assist Taiwanese manufacturers to accelerate into the industry 4.0 field.
Industry 4.0 business opportunities attractive
Since the German government proposed Industry 4.0, the world has also begun to develop, thus bringing new business opportunities for manufacturers, semiconductor components, system integration plant operators, etc., among which robots can be said to directly benefit the industry.
According to estimates by the International Federation of Robotics (IFR), the global industrial robot market sold about 225,000 units in 2014, a record high, and future market demand will continue to grow. Service-oriented robots also have potential for development. They are broadly classified into professional, personal, or household. IFR predicts total market sales in 2014~2017, which is expected to exceed 31 million units.
The Tio Industrial Research Institute (TRI) said that driven by the industry 4.0 wave, the global industrial robot market is expected to reach 264,000 units in 2015, an annual growth of about 15%; in 2016, there will be an opportunity to come to 290,000 units. Growing about 10%.
Not only does the robot industry directly benefit, but in view of the nine technologies included in Industry 4.0, autonomous robots are just one of them, including network technology, cloud data center analysis and storage devices, software analysis platforms, and semiconductor components such as micro-control. (MCU), sensors, network technology components, etc., have also won tickets for new business opportunities due to Industry 4.0.
Related operators are busy
Due to the attractive business opportunities of Industry 4.0, various industry players also want to "bring a relationship with Industry 4.0", in order to expand the existing revenue scale.
Processor maker Intel (Intel) has already begun to lay the groundwork for the industry 4.0 and IoT business opportunities. In addition to the acquisition of information security software company McAfee and platform software supplier Wind River, it is now more transparent. The company's gateways and other industrial computers such as Advantech and ADLINK provide a complete IoT platform to customers, helping customers to quickly build an IoT application platform and create value for the Internet of Things.
Cai Jiahe, an Internet of Things architect at Intel's Asia Pacific Technology Development Services Group, said that Industry 4.0 is the Industrial Internet of Things (IIoT). The concept and application of the past is machine-to-machine (M2M). However, unlike M2M, Industry 4.0 is not only connected to the machine through network technology, but also needs to use the gateway to transmit the data network cloud or management center for further analysis. Therefore, in the Internet of Things or Industry 4.0 infrastructure. The establishment of the gateway and the application platform is very important.
Component safety/machine monitoring is not negligible: Industry 4.0's goal is to improve production efficiency, manufacturing-oriented, and change the production line architecture at any time for future business opportunities. Li Baijun, manager of Renesas Electronics' marketing department in Taiwan, pointed out that Industry 4.0 emphasizes more efficient factory and machinery management, relying on communication architectures in tandem, but relatively must face data transmission security and network reliability. challenge.
In order to strengthen the security of Industry 4.0, as the control center of the Industry 4.0 architecture - the microcontroller itself must also strengthen its security. Renesas Electronics and its partners work together to enhance the security of their RX and R-IN MCU products to provide better IoT data transmission security.
When developing Industry 4.0, in addition to focusing on how to build the Industry 4.0 architecture through network technology and back-end management platforms, we must also pay attention to the first-line machine monitoring. Wu Weihan, National Technology (NI) technical marketing engineer, said that a very important part of Industry 4.0 is the monitoring of machine conditions. If this part is not done well, it will not be able to achieve the spirit of Industry 4.0 to improve production efficiency.
Therefore, through the data acquisition and vibration sensor and other devices in the measuring instrument, together with the unified data transmission gateway, active protection can be achieved, and it is possible to know first whether the machine is about to be damaged or not. Improve the efficiency of machine inspection and maintain the safety of workers.
Communication technology is indispensable: in terms of networking technology, in addition to the wired and wireless communication technologies transmitted to the cloud, communication between machines in the factory is indispensable. Therefore, in the Industry 4.0 architecture, various wireless communication technologies will complement the industrial Ethernet network. Among them, ZigBee, which can construct a mesh network, has begun to gain the attention of manufacturers.
Bao Luge, general manager of Silicon Labs Taiwan, explained that in the Industry 4.0 network, various wireless communication technologies will have their own positioning, and there will be no so-called substitution effect. ZigBee is suitable for a large number of machines or public facilities because of its mesh network and self-healing characteristics. In addition, in order to let ZigBee transmit data through IP, several companies have also established the Thread Alliance last year, and are committed to adding IP to ZigBee technology.
More importantly, there are many sensors that need to be built in Industry 4.0. These sensors are the same as the wireless network node components. They need to work for a long time, and they cannot change batteries or charge from time to time. Therefore, the components themselves need to be quite economical. Electricity, power management ICs (PMICs) related to power savings and low power consumption will also play an important role in Industry 4.0 equipment.
Complete vertical and parallel integration can hold the business opportunity: Since many German manufacturers have started the layout of Industry 4.0, Siemens has become more aware of the industry 4.0, so in order to provide the most complete solution, Siemens has already acquired the way through mergers and acquisitions. Integrate all of the company's products vertically and horizontally. Zheng Zhifeng emphasized that Siemens products can cover five levels of enterprise, management, operation, control and on-site, and these five levels are the complete industrial 4.0 architecture.
Not only does it provide a complete Industry 4.0 solution to its customers, Siemens' own Amberg plant has met the needs of Industry 4.0. Zheng Zhifeng pointed out that through the experience of building an industrial 4.0 plant, in addition to strengthening the integrity of its products, Siemens also has the ability to assist operators to build the industrial 4.0 plants they need. In addition, Siemens is also actively cooperating with all walks of life in Taiwan to promote the development of Taiwan's Industry 4.0.
One of the goals of Industry 4.0 is to coordinate the execution of a complete production task through automated control, inter-component optimization or overlay systems, requiring new solutions for hardware, software and system design. In particular, the compact, rugged solution for on-site processing of discrete tasks, the need to acquire sensor data, carefully design PLC systems and central IT systems and the cloud.
Lin Biaozhang, director of HARTING in Taiwan, believes that the key is to move from established automation technology to Integrated Industry, which combines industrial automation and information technology, enabling new business models, new products and services, and improving reliability. Sex and productivity. To this end, HARTING has implemented a wide range of "HARTING Integrated Industry 4You, HAII4YOU" in its own smart factory.
Component agents grab the cups: Finally, semiconductor component agents are also gaining new business opportunities in this wave of industry 4.0. If you want to enter the industry 4.0 market, in the absence of a clear concept, do not know which key components to use, or want to save time to buy enough, then in addition to the original factory, agents will be the better choice . Su Zhilun, director of technical support for Mouser Asia, mentioned that agents not only represent many original high-quality components and passive components, but also establish application and technology-related sub-sites, allowing customers to construct in the most convenient and fast way. Application Technology Blueprint for Industry 4.0.
Avnet (AVNET) and its partners provide a complete product line, such as a variety of development platforms, various transmission protocols, wireless sensing network (WSN) solutions, micro-electro-mechanical systems (MEMS), etc., to help the industry optimize the industry Equipment, increase production efficiency, and further save human resources costs. In the future, Avnet will further join the system integration part, which will help customers to select complete component products and meet the high customization requirements of customers.
Network + Sensors ≠ Industry 4.0
Due to the current development of Industry 4.0, each industry has its own efforts and cannot be cascaded into a comprehensive development; nor has any "standards and specifications" allowed the industry to follow. Therefore, Industry 4.0 is like a technology and market that is "like a fog", but Industry 4.0 is not just a simple addition of a network and a sensor to a production machine.
Zheng Zhifeng pointed out that many manufacturers do not quite understand the true meaning of Industry 4.0. They think that adding a network and a sensor to the machine is Industry 4.0. In fact, the industry ignores the data analysis collected by the sensor and is smarter. How do autonomous robots achieve... and other technical issues.
Returning to the nine core technologies previously covered by Industry 4.0, achieving these technologies is not a simple matter for the relevant industry. Germany has accumulated more than 10 years of relevant technical capabilities to further propose the Industry 4.0 program in 2011, and promoted in 2012, so if the industry only sees the beauty of the industry 4.0 market, and forgets behind the huge technical strength "blessing" Not only can't really understand what Industry 4.0 is going to do, but it will also fall into the dilemma of not knowing where to start developing Industry 4.0.
The standard of the unified system is Lu Yaozhen: In addition to technical problems, the unification of unified standards has become a stumbling block for the industry to develop Industry 4.0. Cai Shouli, general manager of Avnet Taiwan, said that the current industry 4.0 network agreement is quite confusing. Google, Apple and some IC suppliers have their own solutions. At present, there is no indication that there will be a standard standard. Li Baijun believes that in the part of wired transmission technology, Industrial Ethernet is expected to become one of the industry 4.0 communication standard technologies.
It is worth noting that when developing Industry 4.0, the industry is bound to face the problem of interface - that is, interoperability. Zheng Zhifeng believes that Industry 4.0 may not need Total Solution, but standardization is very important. The problem is that the current standards have not yet been defined, and the standardization development will not appear for a while, so that Industry 4.0 presents the respective efforts of manufacturers. In addition, many manufacturers may not be able to construct a complete vertical and / horizontal integration of products, and choose cross-industry cooperation, but it is bound to encounter the interoperability of various product interfaces, resulting in their customers encounter problems, can not effectively solve.
Zheng Zhifeng said that international big companies do have the advantage of establishing the industry 4.0 standard, but whether the cross-industry cooperation between small factories can also establish a unified standard, still need time to observe. However, when the Datong standard appears, it cannot be further predicted by the current market development, and the interface problem will become a major concern for the development of Industry 4.0.
Development Industry 4.0 Taiwan's industrial crisis or turnaround?
At the same time as the global "mad" industry 4.0, the Taiwanese industry and the government are also very concerned about Industry 4.0. However, what challenges will Taiwan encounter when developing Industry 4.0 will be the part that Taiwanese manufacturers should pay attention to. Zheng Zhifeng analyzed that in fact, Taiwan and Germany have similar similarities in manufacturing, such as relying on export sales, strong manufacturing capabilities, and focusing on the development of machinery manufacturing, all of which suffer from population aging problems. Therefore, Taiwanese companies are most suitable for the development of German manufacturers.
Only Taiwan and German manufacturers still have differences, that is, Germany has many private brands, but Taiwan is mostly OEM, so German manufacturers can clearly understand the development of industry 4.0 according to their product needs and characteristics. The Taiwanese manufacturers have not yet mastered the key technologies of Industry 4.0 because they are designing and manufacturing products according to the requirements of the parent factory.
Zheng Zhifeng emphasized that if Taiwan's manufacturing industry still wants to compete with low-cost and quality strategies in the future, it will probably not be able to match China's mainland, which has already actively developed Industry 4.0. Therefore, after adjusting their mentality, Taiwanese manufacturers gradually developed the nine major technologies required by Industry 4.0, coupled with the promotion and assistance of the official government to further strengthen the degree of industrial automation.
In addition, in addition to optimizing the hard process and establishing the process modularization, the Taiwanese industry must fully integrate the automation design; the software platform must be constructed from the integration of the basic environment, and establish a factory digital platform, combined with automation design, and finally It is also necessary to pay attention to network security, industrial 4.0 application methods, etc., and then achieve the goal of Taiwan Industry 4.0 project - "productivity 4.0".
Xinxiang Mina Import & Export Co., Ltd. , https://www.mina-motor.cn