In the current mobile phone market, the market share of Android smartphones continues to rise, and among them, mid-range and mass-market smartphones are being watched by the industry. Data show that from 2009 to 2014, shipments of mid-range and entry-level smartphones will increase by a factor of nine.
This article refers to the address: http://
How to quickly launch Android smartphones with differentiated performance for the mass market is the focus of OEM/ODM vendors. At present, the number of entry-level smartphone OEM/ODM has surged, which has invisibly increased price competition and cost pressure. At the same time, they face more problems, such as: faster product replacement and technology updates increase the pressure on the market; the increase of hardware and software components expands the scope of OEM / ODM design solutions, but at the same time increases development, integration, testing And the complexity, cost and time required for approval.
Qualcomm Reference Design Platform
Qualcomm's Reference Design (QRD) came into being, a comprehensive mobile development platform and ecosystem plan (see photo). By providing a complete hardware and software design, rich hardware devices and third-party software verification lists, this reference design helps customers quickly launch mass-market smartphones with differentiated user experiences.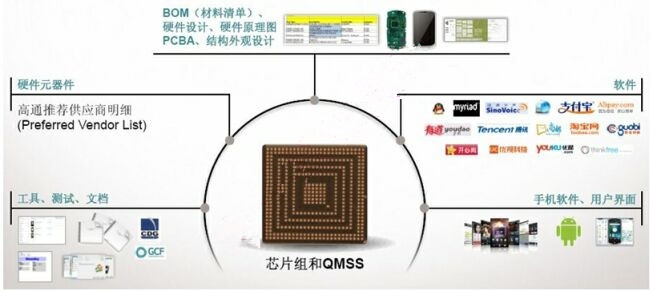 Figure: Developing an Android smartphone with Qualcomm's reference design.
QRD provides a complete reference design platform (including hardware, software design and user interface design tools), enabling rapid and efficient development of vendor-differentiated products. In addition to the hardware design of the complete machine, QRD also offers a variety of alternatives. Hardware devices (memory, sensors, touch screens, cameras, displays, RF, etc.) that have been tested and integrated on the QRD platform. The software solution also includes a wealth of third-party applications, including browsers, maps/navigation, mail, music, instant messaging, social networking, games, search engines, e-commerce and many other applications and multi-language, multi-font support. . These third-party applications are also tested, optimized and pre-integrated by QRD.
Currently, reference designs based on the MSM7227A, MSM7627A, MSM7225A and MSM7625A chipsets are available, and Qualcomm announced further expansion of the QRD solution at the end of last year, which includes the latest mobile processor MSM8625 from the latest Opteron S4 series. MSM8225. The processors integrate Qualcomm's Snapdragon dual-core CPUs, Adreno 203 GPUs and 3G modems running at 1GHz. The MSM8625 and MSM8225 chipsets are hardware and software compatible with the MSM7x27A and MSM7x25A family of chipsets, enabling terminal vendors to seamlessly migrate existing Snapdragon-based S1-based designs to dual-core S4 mobile processors for greater cost efficiency .
Integrated hardware and software ecosystem
Currently, QRD is working with hardware and software vendors to create a list of preferred suppliers, providing customers with more flexibility for fast, low-cost design and customization of smartphones. Work on hardware and software pre-testing and pre-integration will continue and be constantly updated to reflect customer and market needs. From a hardware perspective, the hardware ecosystem already contains hundreds of proven main components. Currently, the main types of components are: memory, camera, gyroscope, acceleration sensor, compass, proximity sensor, ambient light sensor, display. Screen, multi-touch capacitive touch screen, power amplifier, duplexer, surface acoustic wave filter and antenna switch. There are also a variety of specifications in the same type of components. For example, the memory includes 256MB/256MB~1GB/512MB NAND MCP and 4GB/512MB~8GB/1GB eMCP; the main camera includes 3 million, 5 million and 8 million pixels or higher; the display includes 3.5 inches HVGA, 4.0~ 4.3-inch WVGA, 4.3-4.5-inch qHD or higher; RF devices include discrete power amplifiers + antenna switches and integrated power amplifier / antenna switch modules. Drivers for all components support Android 2.3 and 4.0.
For hardware vendors, how do you get involved? Hardware vendors should decide to participate in QRD, prepare components for use on Qualcomm processor chips; work with QRD component labs to understand business requirements and performance metrics; provide component samples for QRD handsets; The functional and performance tests of the device lab are completed and verified; once the components are verified, the customer can select these components for use on their mobile phones.
For third-party application software vendors, they can work with QRD to test, optimize and integrate application software on the QRD mobile platform to provide certified third-party software to QRD customers. At present, QRD has cooperated with many software vendors at home and abroad to verify hundreds of mainstream Android-based applications. In addition, Qualcomm will provide software and hardware engineering development support toolsets, QRD hardware platforms, laboratories and developer websites to help software vendors take advantage of a range of tools and technologies developed by Qualcomm (eg mobile web browsing optimization technology Web) Tech, peer-to-peer AllJoyn technology, augmented reality, UI optimization, etc.) to develop applications with better user experience and superior performance.
In summary, by joining the QRD ecosystem, OEMs and ODMs can leverage existing commercially prepared solutions to help them get time-to-market and cost advantages to outperform their competitors; for hardware component suppliers After QRD verification, it becomes a recommended supplier to promote its components to QRD customers; for software vendors, QRD customers provide pre-installed or downloadable applications for QRD customers; and software developers Visit the developer site to learn about the tools in the software development kit and other resources and information on how to port your application to a QRD phone.
Porcelain insulation
Porcelain Insulator is made of ceramic materials. The surface of porcelain is usually covered with enamel to improve its mechanical strength, waterproof and wet, and increase the surface smoothness. The combination of porcelain and other minerals allows current to pass without reacting with nearby electrical conductors. Ensuring greater safety, High Voltage Porcelain Insulators also allows current to pass without losing any power. There are several types ofHigh Voltage Porcelain Insulators and low volatage porcelain insulators : Switch Post Insulators, Din Insulators , Line Post Insulator , Station Post Insulator, Disc Insulator , Pin Insulator , Long Rod Insulator , Porcelain Bushing , Strain Insulator , spool insulator, Shackle Insulator and Telephone Line Insulator.
Porcelain insulators are used for high-voltage and low-voltage transmission lines
and dielectrics produced by various electrical equipment to support and suspend overhead conductors to maintain sufficient insulation between conductors and conductors and between conductors and the earth. The installation height should be below 1000 meters. The voltage can reach 0.3kv-330kv. They have a higher leakage distance distrib
ution and stronger compression

.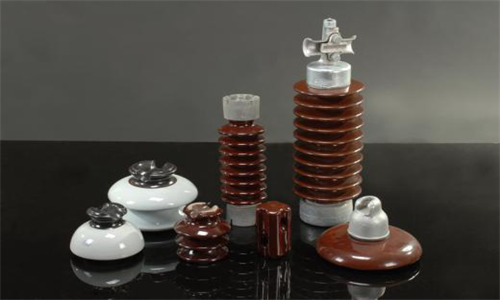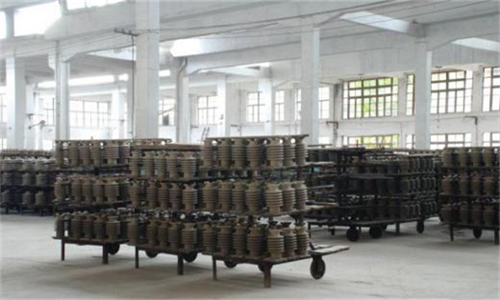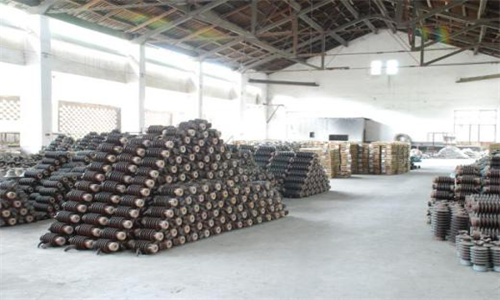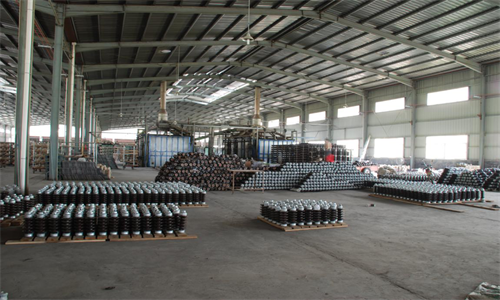 We warmly welcome friends both domestic and abroad to visit our company, if you have any questions, please contact with us directly.
Porcelain Insulator
Porcelain Insulator ,High Voltage Porcelain Insulators,Switch Post Insulators,Din Insulators
FUZHOU SINGREE IMP.& EXP.CO.,LTD. , https://www.cninsulators.com