With Light Source:
With Light Source
Material:
Aluminum Stainless Steel
Transport Package:
Canrton or as Customer′s Request
Specification:
CE, SGS, CQC, ISO9001
Origin:
Jiangsu, Yangzhou
Technical Data
8M Pole Height 60W LED
11-12 Hrs 3-4Nights Lighting
Solar Panel:
Lifespan:20-25years
140W*2PCs for 24V Lighting,17% Efficiency,Mono Crystalline Silicon.High Efficiency.
Gelled Battery
Lifespan:5-8years
150Ah/12V*2PCs,Sealed Type,Gelled.Deep cycle.Maintenance Free
Intelligent Solar Controller, 
PWM Type,
Lifespan:5-10years
15A/24V*1PC,Automatic Light and Time Control
Over-charging/discharging Protection
Reverse-connection Protection
Light source:High Power LEDÂ 
Lifespan:>80000Hrs
60W*1PC LED,White color,140LM/W,30Lux,6500K
IP65,120DEGREE Angle
Pole:
Lifespan:More than 20years
8M Height,Steel,Hot-Dip Galvanized.With Arm,Bracket,Flange,Fittings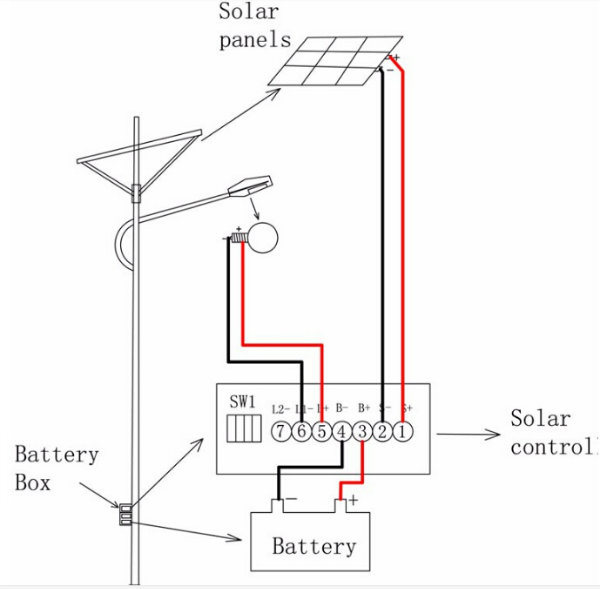 Wind power generator
The weak wind can also power the three-leaf optimal design
The inhibition of fan sound silent operation
high Feng Shui Ping bias type protection function
high power LED light source

LED Material Description
1.)Lamp Body: High-Pressure Die-Casting Aluminum. Corrosion Resistant
2.) Application with Polyester Substance in its Surface.
3.) Implement of Reflect: Made of High Purity Aluminum.
4.) Cover: High Strength and High Transparent Toughened Glass 
5.)Fastener Bolt and Screws: Stainless Steel
6.)Arm Diameter: 60mm
7.) IP65
Adopt imported high performance chip patent packaging,than the traditional energy-saving lamps 60%
pavement evenness achieves 0.7 above,uniform illumination without spot phenomenon
high color: reduction of objects it color,beautify the city environment
The environmental health:LED no mercury,no UV radiation,is more conducive to environmental protection and human health
Solar panels
energy efficient electric energy converter device
The solar panel is composed of a plurality of each unit,using semiconductor P-N pole photoelectric,light energy is converted into electric energy
Storage battery
Uses the high efficiency,maintenance-free batteries,can be in calm,no day lighting conditions to work for 5Â consecutive days
The microcomputer controller
preventing overcharge and over discharge
Time control and light control function
The strong wind protection function

Solar energy light brief introduction
1.Using the microcomputer intellective controller to transfer the light energy to electrical energy .Easy to install since no wiring &Â trenching,energy conservation and environmental protection
2.The microcomputer intellective controller is composed by advanced special-purpose integrated circuit,high conversion efficiency,prevent over-load &over-discharge,Output short circuit protection,extend work life, on the safe side,convenient usage.
3.High effective Non-maintaining accumulator cell,strong storage,durable usage.
4.Automatic track type time controller,Automatically adjust the working time along with different illumination time in various seasons.For extending the work time energy conservation intellective controller will automatic shut-off the light at Deep-night.
Features
lighting source:LED
Solar panel:Monocrystalline or polycrystalline,10years life time
Storage battery:high efficiency colloid battery,free maintenance
Service life:5years
Controller:time control and light control,preventing from overcharge and overdischarge,having output short circuit protection.
Ambient temperature:-30~+60
Lighting time :subject to exact configuration power,normal over 8hours.
Height:5m-8m
FAQ
1:How many cycles full charge&discharge about your battery?
 In 50% discharging deepness, it can be cycled for 1,200 times; in floating charging and discharging status, it can be cycled for 5000~6000 times. 
2.How to Choose the System Voltage  12V or 24V or for normal street Light ? 
We can design the System for 12v or 24v for solar street Light or 220-380V for normal street light .  
3.What's the main difference between mono and polycrystalline solar panel?
production process and cost. Polysilicon technology is more mature since it is an early technology compared with Monosilicon. 
4.The controller of your solar street light has dual time control function?
our solar charge controller is designed with dual time control function, you can set up the lighting time and divide it into two parts, like 12 hours (6 hours full power lighting +Â 6 hours half power lighting)
Welcome to contact us a.s.a.p.
| | |
| --- | --- |
| Contact person:Dongzhou Zhao | M.B.+8618652772323 |
| Â  | dongzhou.zhao |
 
For the convenience of users, we have a smarter Head Light-Sensor Headlight. You only need to put your hand before the sensor instead of pushing the switch to turn in on or off, and also to change the lighting modes. This is really considerable for those who need to work with two hands and can not push the switch. More than 6 years` experiences in this field insures us to provide you high quality products and professional service. Welcome to contact us for further communication and cooperation.
Sensor Headlight
Sensor Headlight,Zoomable Headlight,LED Smart Headlight,Sensor LED Headlight
NINGBO SINO-WORLD ELECTRONIC TECHNOLOGY CO., LTD. , http://www.sinoworldlight.com