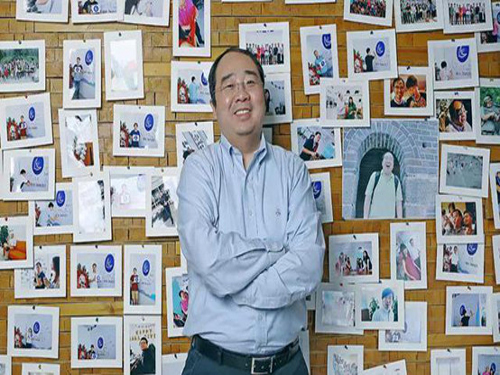 APUS may be unfamiliar to you, but a set of data can tell you that it should not be underestimated: it is a desktop management application that has been released for less than a year, it has completed two rounds of over 100 million US dollars of continuous financing, it is currently The valuation is over one billion US dollars, and it also attracted 150 million users. APUS started from scratch but rocketed up. For this achievement, APUS founder Li Tao revealed: "Three points are the secret of products attracting users".

Li Tao once said that although APUS was established less than a year ago, he has fought for 15 years in the Internet industry. From entrepreneurship to charting, to 360 companies, to APUS. After years of experience, Li Tao has consolidated his thoughts on the mobile internet and completed the accumulation of entrepreneurship.

In addition to the accumulation of these experiences, Li Tao also has his own product concept called "Three Points and Two Reasons."

Li Tao introduced that "three points" refers to pain points, highlights, and desserts, respectively. Pain points, ie user needs. Tao Li believes: "The most important thing is to meet the needs of users. The bright point is that after the product launches, it must be able to capture the eye, stand out and stand out from the crowd. The dessert means that the product should stick to the user, allowing users to use it for a long time, so that the user can continue to have Feels good to the user."

When talking about how APUS used its marketing to accumulate 100 million overseas users, Li Tao said that there is a rule in its company that no promotion will be made within 10 million users. "The purpose of marketing is to make the highlights of products brighter, but it is really painful to impress users."

Therefore, Li Tao believes that "we cannot try to use the money to gain users' loyalty. Money can only establish bright spots. When you do not grasp the pain points, it is a dead end to make bright spots." For entrepreneurs, it is not anxious to savor and It is to make a product that can really catch people's attention.

In addition, Li Tao also explained in detail that "delicious" refers to the extreme and refined. Ultimate means that the product must be done to the extreme to prevent competitors from copying you and beyond you. Exquisite means that the product should be simple and many details must be done beautifully and with emotion. Li Tao said frankly: "The company's funds and resources are all around the 'three points and two' service."

This originated in China, and the emerging companies that make the global market alive, rely on the founder Li Tao's "three points, two factors" concept to break 100 million users in six months and obtain two rounds of financing totaling more than US$120 million. Such achievements have been amazing, but Li Tao believes that APUS can continue to create miracles and will provide mobile network services to 3 billion mobile phone users worldwide. Once again, it is possible to create endless possibilities for entrepreneurs and companies from all over the world to show that Internet companies originating from China have been created.
Since the modern mud (or slush) pump was built approximately 60 years ago, the industry has widely accepted the three cylinder or triplex style pump. Triplex mud pumps are manufactured worldwide, and many companies have emulated the original design and developed an improved form of the triplex pump in the past decade.
As in all single acting pumps, the piston exerts a load on the crankshaft. The load is then transmitted to the crankshaft main bearings, which are set in their retainers in the pump frame or housing.

Pump Crankshaft,Piston And Crankshaft,Counter Rotating Crankshaft,Camshaft And Crankshaft
Shenyang Zhicheng Heavy Machinery Manufacturing Co., Ltd. , https://www.zhichengmachinery.com