In almost any corner, whether you want to check the restaurant menu on your computer or locate the nearest dry cleaner on your smartphone, it 's easy with Google = 's data. However, when you are driving, it is difficult to find information with ease.
Google is trying to change this status quo, and more and more car manufacturers are also installing Google Maps related technologies in car navigation systems to provide real-time traffic, street view, field search and other data information. Toyota Motor Corporation has recently introduced Google products and announced that it will add Street View and Google Panoramio picture sharing services to its Toyota and Lexus models (although it is currently limited to Europe).
Google Street View can provide real photos of driver destinations to ensure that they arrive at the right place. It is now used in some luxury models of Audi and Mercedes-Benz, but Toyota is the first mainstream brand to provide this service. Other car manufacturers such as BMW, Hyundai and Kia have chosen Google Places (Google local information, a local life information search and sharing platform based on geographic location), Send-to-car system (upload driving directions).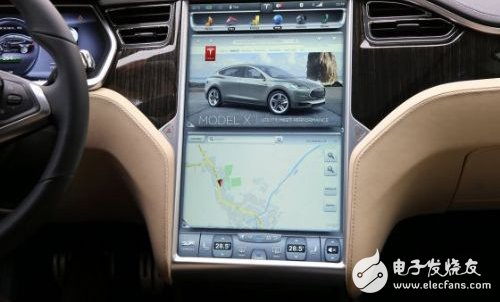 Tesla cars equipped with Google Maps
Maps become the initial entry point for IT cars to break through the automotive industry
The emergence of connected cars has provided tremendous opportunities for mapping technology companies such as Google, Nokia, and TomTom. However, you rarely see Google 's own digital maps in the car (the only exception is) It 's TESLA, and its 17-inch navigation display uses Google 's technology entirely).
In fact, Nokia is the main provider of map technology in car navigation systems, as is TomTom. Not long ago, Nokia also released a car navigation system called Nokia HERE Auto. It is undeniable that Nokia 's HERE data map technology is an important reason for Microsoft 's decision to acquire Nokia 's smartphone business. Microsoft intends to use this to compete with Google's map business.
Derek Williams, general manager of telematics and multimedia product planning for Toyota 's European business, said that there is a reason why automakers do not use Google 's digital maps-Google Maps is based on the cloud model, which can be used on computers and Get the best use on smartphones, not cars:
Google 's maps on the Internet are in B2C mode. Therefore, Google can change the map format at any time according to its needs to update information for customers. But most car manufacturers do not want to download everything on the car. So they chose to install the map on the car and keep the map stable for 5-10 years.
But the problem is that the map will change, and the various location information on the map will also change. For example, restaurants will change, store hours will change, and buildings will change dramatically. This makes Google surpass its competitors because of its huge data network and unique information analysis algorithms. For example, its Google location software features more than 100 million merchants and points of interest, and these features are often upgraded with the contributions of certified customer rosters and censored users. Tarun Bhatnagar, director of Google Business Maps, said:
The problem with most car navigation systems is to store the information on a DVD. Although your car may only be used for one year, the data in your car may be two years ago. However, Google's location service is different and will update the data in a timely manner.
If car manufacturers still provide consumers with such data services, the result is naturally that more and more drivers will choose to use smartphones to obtain travel-related information. I think the trend lies in the seamless and ubiquitous connection of information on all screens. The touchpad in your car will be an extension of everything else in your life.
Electronic motors applications.
Multiple Electronic Limits Tubular Motor,Motor Solutions,Intelligent Remote Control Motor Solutions,Electronic Limit Garage Door Motor
GUANGDONG A-OK TECHNOLOGY GRAND DEVELOPMENT CO.,LTD. , https://www.a-okmotor.com